NEW FROM T. JEFFERSON PARKER!
A chilling letter promises a reign of terror and vengeance.

A CIA drone operator fears for her life and her son's.

A private investigator races against the clock to save his friend—and maybe his city.
---
Private Investigator Roland Ford is on the trail of a mysterious killer who is beheading CIA drone operators and leaving puzzling clues at each crime scene. His troubled friend Lindsay Rakes is afraid for her own life and the life of her son after a fellow flight crew member is killed in brutal fashion. Even more terrifying is the odd note the killer left behind:

Vengeance is justice. The thunder is coming for you.
Sincerely,
Caliphornia
---
In this incendiary new thriller from three-time Edgar Award winner and New York Times bestselling author T. Jefferson Parker, Roland Ford is hunting down a mysterious killer, jockeying for position with the FBI, and risking everything to save a friend in terrible jeopardy!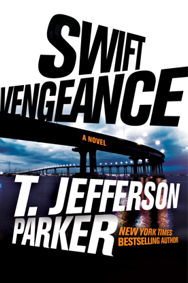 Hardcover: 368 pages
Publisher: G.P. Putnam's Sons (August 21, 2018)
Language: English
ISBN-10: 0735212694
ISBN-13: 978-0735212695
---
Order SWIFT VENGEANCE Now!
Choose your favorite
on-line bookstore and order your copy now!
---
THE "SWIFT VENGEANCE" TOUR DATES ARE NOW ONLINE!

Click here to see if Jeff will be coming to your area.