ON SALE AUGUST 22ND!
A young soldier escaped from a mental institution.

A P.I. carrying his own wounds hired to track that soldier down.

A race against the clock to bring the soldier home before he reveals the secret that could destroy him.
---

Roland Ford—once a Marine, then a cop, now a private investigator—is good at finding people. But when he's asked to locate Air Force veteran Clay Hickman, he realizes he's been drawn into something deep and dark. He knows the weight of war, having served as a Marine in First Fallujah; he also knows the nightmare of indescribable personal pain, as only two years have passed since his young wife's sudden death. What he doesn't know is why a shroud of secrecy hangs over the disappearance of Clay Hickman—and why he's getting a different story from everyone involved.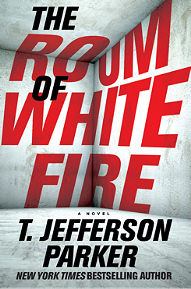 Hardcover: 352 pages
Publisher: G.P. Putnam's Sons (August 22, 2017)
Language: English
ISBN-10: 073521266X
ISBN-13: 978-0735212664
Order THE ROOM OF WHITE FIRE Now!
Choose your favorite
on-line bookstore and order your copy now!
Amazon.Com
Barnes & Noble
Indie Bound
iBooks
THE ROOM OF WHITE FIRE TOUR SCHEDULE IS NOW ONLINE!
Click here!