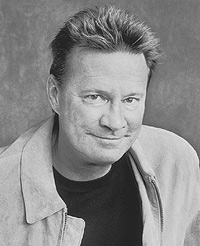 Credit: Marion Ettlinger

T. Jefferson Parker was born in Los Angeles and has lived all his life in Southern California. He was educated in public schools in Orange County, and earned a bachelor's degree in English from the University of California, Irvine, in 1976.

His writing career began in 1978, with a job as a cub reporter on the weekly newspaper, The Newport Ensign. After covering police, city hall and cultural stories for the Ensign, Parker moved on to the Daily Pilot newspaper, where he won three Orange County Press Club awards for his articles. All the while he was tucking away stories and information that he would use in his first book.

Parker's first novel,

Laguna Heat

, was written on evenings and weekends while he worked as a reporter, and was published to rave reviews and made into an HBO movie starring Harry Hamlin, Jason Robards and Rip Torn.

Parker's following novels -- all dealing with crime, life and death in sunny Southern California -- were published to rave reviews and appeared on many bestseller lists. His writing has been called "potent and irresistible" (Los Angeles Times), and "resonant, literate and powerful" (Kirkus). The New York Times wrote that "T. Jefferson Parker is a powerhouse writer." Writing in the Washington Post, critic Carolyn See called

The Triggerman's Dance

"a masterpiece."

Parker's

Silent Joe

won the Edgar Award for best mystery in 2001, as well as the coveted Los Angeles Times Book Prize for mysteries. Three years later,

California Girl

won the Edgar for best mystery once again. In 2008, Skinhead Central won Parker his third Edgar, this time for best short story.

Parker's last six crime novels --

L.A. Outlaws

,

The Renegades

,

Iron River

,

The Border Lords

,

The Jaguar

and

The Fabulous and the Dead

all feature Los Angeles County Sheriff's Deputy Charlie Hood, and deal with dangers along the U.S./Mexico border. Lionsgate has bought the rights to bring Charlie Hood to the big screen.

In 2014, moved by the young Marines returning from Afghanistan through Camp Pendleton, Parker wrote Full Measure. This story, about a young man returning from bloody combat and trying to find his place in a changed America, was called "Compelling" by T.C. Boyle and "A Great American Book" by Luis Alberto Urrea.

Crazy Blood, a novel set in the high-stakes world of Olympic ski racing, followed in 2016.
Parker will launch his news series, based on private investigator Roland Ford, in 2017 with The Room of White Fire. The series is set in north San Diego County, not far from Parker's adopted hometown of Fallbrook.

When not working, Parker spends his time with his family, hiking, fishing, beachcombing, exercising his dogs. He cannot pass by a body of water without wanting to fish it. He also enjoys rock hounding, cycling and being outdoors.
---
His novels are:

Laguna Heat (1985)
Little Saigon (1988)
Pacific Beat (1991)
Summer Of Fear (1993)
The Triggerman's Dance (1996)
Where Serpents Lie (1998)
The Blue Hour (1999) 1st in the Merci Rayborn series
Red Light (2000) 2nd Merci Rayborn novel
Silent Joe (2001)
Black Water (2002) 3rd Merci Rayborn novel
Cold Pursuit (2003)
California Girl (2004)
The Fallen (2006)
Storm Runners (2007)
L.A. Outlaws (2008) 1st Charlie Hood novel
The Renegades (2009) 2nd Charlie Hood novel
Iron River (2010) 3rd Charlie Hood novel
The Border Lords (2011) 4th Charlie Hood novel
The Jaguar (2012) 5th Charlie Hood novel

The Fabulous and the Dead (2013)
6th Charlie Hood novel
Full Measure (2014)
Crazy Blood (2016)
The Room of White Fire (2017)


A Mystery Writer Attends the Sprague Symposium
TJP's columns from the L.A. Times "Orange County Live!", a selection




Elliot Neaman interviews Jeff for KUSF radio (San Fran), Oct 2006 (Quicktime AUDIO)

The Kacey Kowars Show: Kacey & Jeff on The Fallen, Feb 2006 (AUDIO)

HeyListen.com: Michael Artsis interviews Jeff, Feb 2006 (AUDIO)
Also available via podcast on Apple iTunes (search under heylisten)
and blastpodcast.com

Find out Jeff's definition of noir in HardLuckStories 2004 interview

Peek into Jeff's brain with WritersWrite.com's 2003 interview

Jeff Parker interviewed by Harlan Coben for MysteryReaders.org

Jeff Parker interviews Jan Burke for MysteryReaders.org

FictionAddiction.net web site interview

Mysteries Galore @ BestsellersWorld.com interview

The View From Elsewhere, Orange County Register interview

HarperCollins UK's interviews, yes many!, with Jeff

Jane Davis interviews Jeff re: Silent Joe